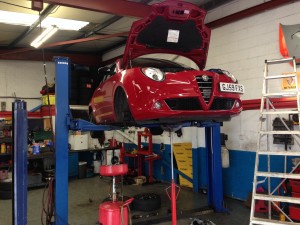 This Alfa Romeo Mito came into us with a complaint of a strange smell, also the gearbox was noisy and sometime's locking up.
The gearbox had to be removed to try and find the problem.
As we started to remove the gearbox it became obvious that the strange smell the customer had complained of was in fact gear oil.
After removing the gearbox we found a hole in the casing and several ball bearings
etc that had punched their way into the bell housing.
After talking to our gearbox specialist we found that this was a common problem with the Alfa
Mito and the gearbox unfortunately was un-repairable.
The customer decided to let us source a reconditioned gearbox and replace the
clutch (whilst the gearbox was out).
Two days later the gearbox arrived, so we fitted the reconditioned unit into the vehicle along with a new clutch kit.
Once the work was completed and tested the customer collected their Alfa Mito and was very
happy as we had saved him £££'S on a new gearbox from the main dealer.