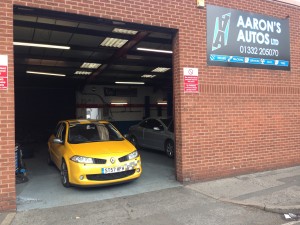 We had a call from a Megane R26 owner saying that his handling was poor and he suspected that the lower swivel bearings were at fault.
As he was from Hertfordshire it was hard to diagnose it over the phone so we recommended that he come up and we would do a full suspension check.
After he arrived we checked the car over to find the O/S/F road spring had broken and this was the cause of the handling problems he had been having.
Renault's spring prices are ridiculous so it was quickly decided that the customer would source a new set of lowering springs from Eibach and would return to have them fitted.
A week later the customer returned and the springs were fitted and all the handling problems
were eradicated leaving a happy customer.