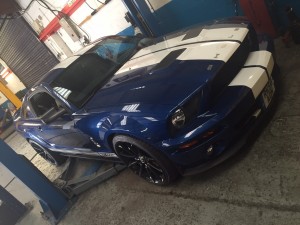 Aarons Autos carry out work on a variety of vehicles from Race Cars to Transit Vans but the same attention to detail is used whatever the model, this has put us in good stead with our regular customers and helps us to grow our name.
The owner of this Mustang got to know Dave through the Cobra owners club and after looking at our website, seeing the kind of work we do and the great reviews we get from our customers any concerns he may of had about leaving his car with a garage he had never used before were gone and he was more than happy to let us work on his pride and joy, a Shelby GT500 Mustang Super Snake.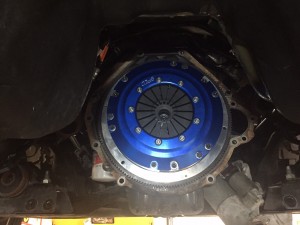 The Mustang was booked in for an upgraded SPEC clutch and flywheel kit to help the 660+ BHP super charged engine get its power to the tarmac. The SPEC kit is a heavy duty twin plate paddle clutch nearly twice the size of the genuine Ford unit fitted as standard and as well as being able to take the torque it looks good too.
Replacing the clutch and flywheel kit was reasonably straight forward, after removing the exhaust system and prop shaft it was a simple matter of a few ancillaries and then the bell housing bolts and the box was out revealing the old clutch unit. Once the new SPEC kit was fitted and aligned correctly it was time for the rebuild which again was pretty straight forward.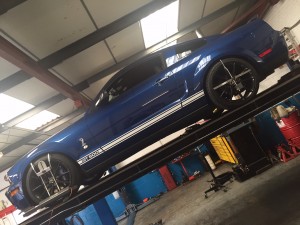 Whilst the Shelby was on the 2 post ramp we had to fit a set of rear brake pads before moving it over to the big 4 post ramp for a 4 wheel alignment.
After all of the work was completed Dave took the car for a road test to make sure everything worked as it should and then delivered the car back to one very happy customer.
Thanks Dave, Aaron for sorting my Shelby Mustang. I don't recommend anyone lightly as it always seems to come back to me if things go wrong. I was well impressed with the work, price, timing and attention to detail, bringing my attention to other works (genuine!) needing doing and finally great communication.

I like to do what I can where I can on my cars and tend to flap a bit when someone else is hitting my pride and joy with a big hammer instead of me, but I felt very comfortable and confident.

Would definitely recommend and use you again 100% without doubt!

Regards Ronan