Renault Clio 197 Cup owners are choosing to visit Derby Garage Aarons Autos and save lot's of money when replacing worn lower swivel joints.
Call Aaron or Dave now for an wallet friendly quote.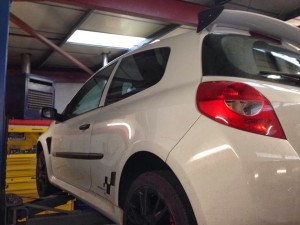 Yet another happy customer had his cars handling restored to perfection. Renault Clio's have long been revered by driving enthusiasts.
Aarons Autos Performance Motorsport team has many years experience with the French companies hot hatches and currently prepares four Clio race cars for the MSVR Team and Trackday Trophy races.