We had this little Vauxhall Corsa 1.2 booked in with us for a 'really bad engine noise'.
Once the car was in the workshop it became apparent very quickly what the noise was, the Timing Chain was rattling so bad we were surprised it hadn't jumped a tooth and caused engine damage!
When we were stripping the engine down to put the Timing Tools in place we could see just how badly stretched the chain had become, the crank locking pin went straight in but both cam shafts were out by quite a lot.
There are several variants of the Vauxhall timing chain engines most of which requiring different timing tools which we have, 1.0 – A10XEP, 1.0 – A10XER, 1.2 – A12XER, 1.2 – A12XEL, 1.4 – A14XEL, 1.4 – A14XER, 1.4 – A14NET to name just a few.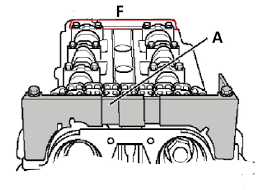 After removing the timing chain cover we could start to see what had caused the problem, the oil was very black and there was a lot of burnt carbon oil inside all the covers.
All engines require regular servicing to keep them in tip top condition but especially modern engines that run a timing chains rather than a timing belt, we are seeing more and more engines requiring timing chain kits prematurely due to a lack of servicing, poor quality oil or the wrong spec oil.
Once we had replaced the timing chain kit and re-aligned all timing marks it was time to clean all off the engine casings and refit, replace the oil and filter and refill the coolant.
When we removed the oil filter this gave us another indication of what had caused the problem, the middle of the oil filter had been sucked in, caused by the paper element of the filter being completely full of oil carbon and struggling to allow fresh oil through it, which in turn starves crucial parts of the engine of oil (timing chain) allowing them to wear, over heat and stretch.
On this particular car we advised the customer that over the next 20,000 miles they should have several oil and filter changes to help remove carbon deposits that we couldn't see or get to whilst doing the job and this will help increase the life of their engine.
Your friendly car garage in Derby
Give us a call at Aarons Autos for more info.