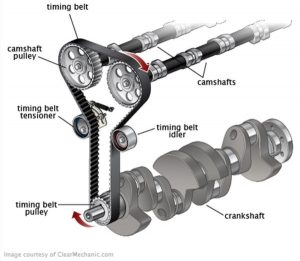 All engines require a drive system to make them operate correctly, this drive system can come in several different types from 'Timing Chains' to 'Timing Belts' and also 'Gear Drive' and 'Wet Belts' depending on which system your car uses you may need to have it replaced at a certain mileage or age interval.
Most cars with 'Timing Belts' require them to be changed at a set mileage or age such as 60,000 miles or 5 years depending on which comes first.
Cars with 'Timing Chains' are normally only changed when they have stretched past a certain length or are showing signs of wear, but in certain cases they also should be changed on a mileage or age basis depending on manufacturer.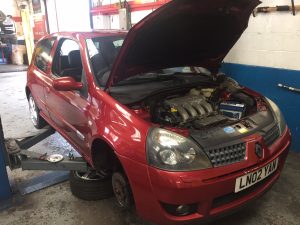 This Renault Clio 172 got recovered in to the garage with a noise coming from the Timing Belt area, the customer informed us that he had only brought the car 12 months ago and was assured the Timing Belt had been replaced the previous year!
After removing the top engine cover it was apparent that there was an issue due to how slack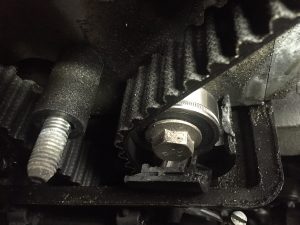 the Timing Belt was, once all the covers had been removed we could see the cause of the fault.
The Timing Belt idler pulley had completely failed, the plastic section of the pulley had split into 3 pieces! and the Timing Belt was running on the small bearing that sits inside the outer plastic casing.
In this instance the customer was indeed very lucky, if the belt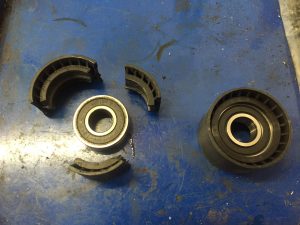 had slipped any teeth on either the crank pulley or the cam shaft pulleys it would have caused catastrophic engine damage and cost the customer a large amount of money!
After replacing the Timing belt kit the car was then road tested and handed back to a very happy customer.