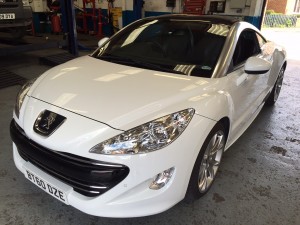 This week we had a Peugeot RCZ in with a terrible rattle coming from the timing chain area, after some diagnosis we confirmed it was the timing chain that was at fault (common problem).
The RCZ was a 2010 model with a good service history so the customer decided to get a second opinion from the local Peugeot Dealer as they thought a five year old car that had been looked after shouldn't have this kind of problem!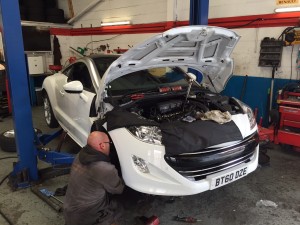 The Peugeot Dealer carried out a diagnostic on the car and confirmed it was indeed the timing chain that was at fault and proceeded to give our customer a quote for the work to be carried out.
When they returned to the garage with the Dealers quote we put our own quote together and it was considerably cheaper than the Peugeot Dealers price. The RCZ was left with us to carry out the repair.
 After stripping all the covers off of the engine to be able to see the timing chain and fit the timing chain locking tools, to our surprise the chain must have stretched quite significantly as the camshaft locking tool wouldn't fit correctly until we slackened the pulley bolts!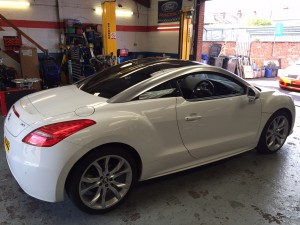 Once the new timing chain kit was fitted and the engine was rebuilt it was time for a quick oil and filter change.
Now it was time to start the engine and see what difference the replacement parts had made, The engine sounded a lot quieter and seemed to run very smooth indeed.