Norfolk N Chance Race Team took their Renault Clio to Oulton Park to compete in the second round of the MSVR Track Day Trophy.
After a great qualifying session and managing to qualify Second in class it was time to move on to the main event. The team managed to finish First in class and Fifth overall but after an unfortunate fifteen second penalty for a short pit stop they ended up Second in class and Sixth overall (still a good result).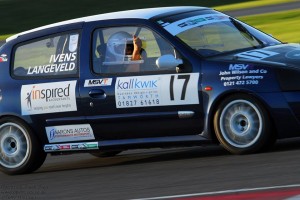 Team Trackspeed's Clio made its 2014 debut at Oulton Park and after some great battling with the Norfolk N Chance Clio and the Steadman's Race Clio they managed a Fourth in class and Ninth overall, A good result for its first competitive race.
Here is a video of the race from the Norfolk N chance Clio, look out for the Team Trackspeed Clio.