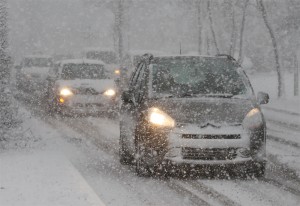 The 'Real Winter' is coming with temperatures set to drop well below freezing and chances of snow all over the country.
Are you ready for the weather?
Is your car ready for the weather?
When you go out in the wintry weather you always make sure you wear the appropriate clothing and shoes/boots, but when it comes to your car do you make sure it is ready for the weather?
Things like checking your tyres for good tread and correct pressure, checking you have the correct amount of oil in the engine, checking the strength of the Anti Freeze in the engine to prevent it from freezing and causing expensive internal damage, checking that your washer fluid has sufficient Screen Wash to stop it from freezing and help keep your windscreen clear of road salt and dirt.
Aarons Autos will check these items for FREE, just drop your car in and we will check the following items free of charge.
All lights for operation and condition
Tyre pressure, condition and tread depth
Oil level and condition
Anti freeze content and level
Washer fluid level and content
Wiper blades for condition and operation
Visual inspection for any other possible problems
Any faults found during our free check can be rectified on the day as long as authorisation is given.