Aarons Autos Performance Motorsport had all three of their race teams at Oulton Park Race Track last weekend for the MSVR Team Trophy race and boy they did not disappoint.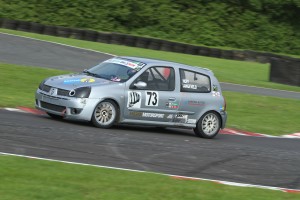 Exploding Fist Racing had a great start in Class B with a blistering 2.00.950 minute qualifying time putting them in second place on the grid (in Class B) only 0.5 seconds behind the leader in their Class.
Team Trackspeed UK also managed to qualify in second place for Class C beating their team mates Norfolk n Chance by 0.02 seconds who ran into problems of there own after the gear linkage decided to bend during Aarons second lap of qualifying meaning he was unable to put in any faster times, all he could do was carry out his mandatory three laps and get the car back to the paddock to assess the damage.
After straightening the damaged linkage it was obvious that it would not be strong enough for the race so it was decided that a three hour round trip back to Aarons Autos was required to weld and strengthen the linkage, leaving only half an hour spare to refit the linkage and get to the holding area for the start of the race! Talk about a race against time!!
Chris Hoey started the race for Exploding Fist and managed to get a significant lead on his Class cars before handing over to Darren Langerveld who carried on pulling away from the other Class B cars giving him a thirty second lead before the car started to misfire! with the help of the huge lead and Darren's sympathetic driving they managed to cross the line in first place for class B.
Then it came to Team Trackspeed and Norfolk n Chance in Class C, Paul Ivens Got a great start putting him straight into first place in class leaving Aaron Harding from Norfolk n Chance way behind stuck behind a couple of Class B cars, seeing this as a challenge Aaron made his way through the pack chasing down Paul for first in class, after several fast laps (including beating the Class C lap record) Aaron found himself nose to tail with Paul, a couple more battling laps and it was time to pit and hand the cars over to Adan Langerveld for Team Trackspeed and David Slater for Norfolk n Chance.
Due to a great pit stop from Norfolk n Chance they managed to get out before Team Trackspeed putting them first in Class, Adam didn't like this and subsequently chased after Dave like a man possessed, unfortunately for Team Trackspeed this meant a very brave overtake manoeuvre into shell causing Adam to cut across the grass and damage the rear wheel bearing as he dropped back onto the track so all Dave had to do was finish to win Class. Adam managed to limp the Clio round the track for several laps to take second in class.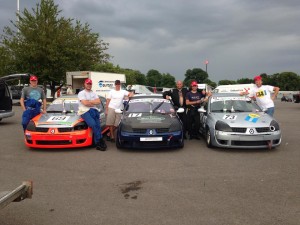 So two First places and one Second place, not bad for a weekends work. Watch the video below to see the footage from the Norfolk n Chance Clio.