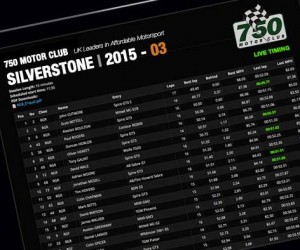 Upon arriving at Silverstone on Friday evening we managed to secure a garage with the guys from Podium Prep, so we unloaded the car locked up the trailer and headed over to our hotel for the night.
On the morning of the race we had a leisurely walk down to breakfast and a slow drive back to the track as we had already signed on and scutineered the car on Friday evening, a quick look around the car and a cheeky look at the weather forecast (praying for rain) and before we knew it was time for qualifying.
I (Aaron) went out first to qualify and managed to get a fairly respectable 1.10.9 but with 42 cars on such a short track there was a lot of traffic, driver change and time to see what Dave can do he was averaging 1.11's and then put in a 1.10.8 which gave us a P21 out of 42! not bad but we reckon with better tyres we would have been in the 1.09's but hey its budget racing 🙂
After a very in depth 'Team Meeting' we decided that Dave would start as he is known for his epic starts and I would go second as I am better at chasing places down later on in the race.
Race time, after a quick green flag lap it was time for lights out and the race was on, Dave made an awesome start taking about 10 place by the 3rd corner but unfortunately an MR2 had a spin straight in front of Dave causing him to run wide and give back several places but still running in 13th place from 21st on the 1st lap he had a great battle with Steve Hewson in his supercharged Peugeot 106 but couldn't hold back the slightly faster french car, after a few more laps Dave stuck the clio up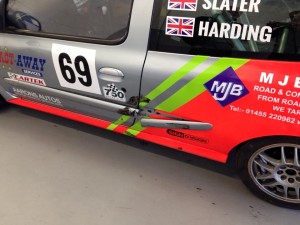 the inside of a Capri (back marker i think) but the Capri decided not to leave enough racing room which ended in a a bit of wheel to door contact but nothing to drastic.
Pit stop time, and time to hand over to me, Dave told me the car felt great and to overtake anything in front of me, so out I went on the hunt it was very hard to tell which cars were back markers and which cars I was chasing (as the two way radio in my helmet was dead) so i tried to overtake everything in front of me and only letting past the front runners. On the last couple of laps i was batting with the Royal Air Force Mini and accidentally let the MR2 past which dropped us from 10th to 11th!
So we qualified 21st out of 42 and finished 11th which we were quite happy with as most of the top cars were much faster than ours.
Next round at Cadwell park so fingers crossed for a better result.