This new customer called us for an estimate as he had recently purchased a Volkswagen Golf and he didn't know the timing belt history. We quoted him on a new timing belt kit and water pump (the water pump is driven by the timing belt) which he accepted and booked in with us.
When we stripped the timing belt covers off we were surprised by what we found. Firstly was the condition of the belt as it was heavily perished and also had rub marks on it. On further investigation we found the lower idler pulley had disintegrated and jammed forcing the timing belt to start wearing through the plastic and potentially leading to a disaster!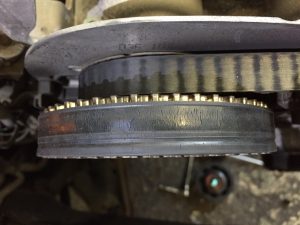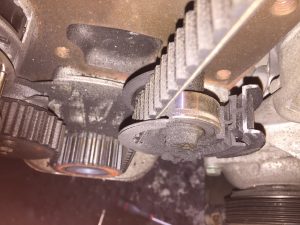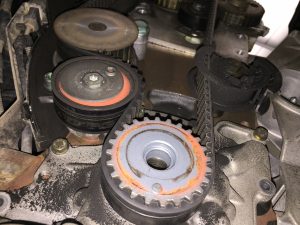 Luckily it was caught in time and with a new cam belt kit and water pump the Volkswagen Golf will now complete many more miles and Dave did advise the customer to buy a lottery ticket.
What Is A Timing Belt?
A timing belt is the ribbed belt that is placed in a specific configuration along one side of your engine to keep the crank and camshafts timed properly. Essentially, it keeps the top half of the engine (cylinder head, valves) in sync with the bottom half (crankcase, pistons).
Does My Car Have A Timing Belt?
Many car have timing belts and some have timing chains, give us a call with your registration and mileage and we will tell you what's fitted and when its due replacement.
When Should I Change My Timing Belt?
Manufacturers employ various schedules and measures for timing belt replacement give us a call and we can tell you.
Is My Engine Safe If My Timing Belt Snaps?
There are two types of engine timing configurations: interference, and non-interference.
An interference type engine means that the valve's stroke and piston's stroke take up the same space in the cylinder, so the timing belt essentially keeps them from smashing into each other, since they do it at different times. If the timing belt snaps, they run into each other, causing bent valves (most common), cylinder head or camshaft damage, and possibly piston and cylinder wall damage. While it is possible that no damage could occur from a snapped belt on an interference engine, such a case is unlikely.
In a non-interference engine, the pistons and valves don't occupy the same space, so if the timing belt snaps, no valve or cylinder damage occurs. You just pop a new belt on, and the engine should theoretically drive normally but these are very rare on modern engines.
Remember we do Gearbox repairs, Clutches, MOT'S, MOT repairs, Car Servicing, Van Servicing, Tracking, Tyres, Diagnostics and all things vehicle related at great prices, Give us a call today for a quote.