Last week we received a phone call from a customer regarding his Megane RS 265 Trophy saying that he had the usual tell tail signs of the lower swivel joint starting to fail, this is not an un-common thing for us as we see lots of Megane's and Clio's for this fault on a weekly basis.
This one was slightly different though, as the customer wanted to know about Ferry times?? after an interesting conversation with the customer we found out that he had been to his local Renault Dealer in Ireland who wanted to charge him nearly 1000 euros per side to replace the hubs!!
He also told us that he checked his on board crash camera after his Megane had been into the dealers to find to his horror that they had been racing his car up and down the dual carriege way and the mic on the camera picked them up saying "lets see how fast it goes"!!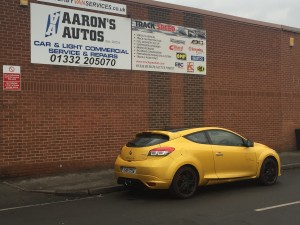 So Friday morning comes and around 9.30 our customer arrives and we check over his car to find that it actually only needs one joint and not two like the dealers had told him! so we dropped him off in town to do a spot of shopping whilst we fitted a new swivel joint to his lovely RS265 Trophy, a couple of hours later we picked him up from town to collect his car and he was back on the road home to Ireland.