The customer of this Porsche Boxster arrived in our garage complaining of a rattle from the rear when the car was driven. Our engineer test drove the sports cabriolet and traced the rattle to the engine bay. On further inspection we discovered the exhaust heat shield was loose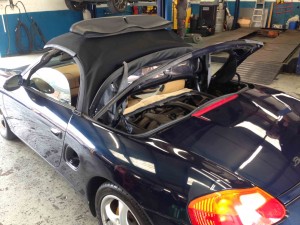 This mechanical problem had a simple solution. A few self tapping screws later and the driver was ready for another fun run in the lovely hot summer sun.
Aarons Autos are the expert local Derby garage for all your vehicle servicing and repairs.
We help customers get their cars and vans back on the road at a price that's right.