This VW Golf was booked in for an M.O.T and unfortunately failed on a faulty steering wheel light illuminated on the dashboard. The customer explained to our technicians that the car had passed it's test over the previous 3 years with the light on.
We explained that as of 2013 new regulations had been implemented which encompassed the ABS, AIRBAG and STEERING warning lamps. If these were illuminated the vehicle would fail it's statutory test. Our diagnostics equipment discovered the fault on the electric power steering rack. Unfortunately this was not repairable so a new unit had to be sourced and fitted.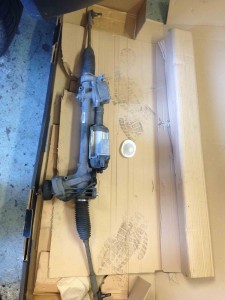 After a thorough recalibration, the steering unit was retested and the VW passed it's test with flying colours.
Aarons Autos are the friendly local garage for all your vehicle servicing and repairs.
We help customers get their cars and vans back on the road at a price that's right.