We are now able to offer Pure Motorsport Products for sale through our site on a supply and fit basis.
These are precision made parts which have been tried and tested on several of our race cars and customers cars, Pure Motorsport have a big following on the Renault Sport forums so we decided to help our customers by offering a fitting service alongside the purchase of these top quality parts.
Clio 172 / 182 Sport and Cup models Gear Selector Conversion Kit.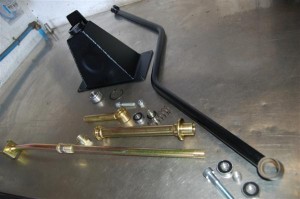 This kit replaces the entire gear linkage system, from the gear knob to the gearbox.
The kit is designed to remove any free play in the linkage system by replacing all rubber/plastic bushes with roller and
spherical bearings.
The gear knob is placed much higher than standard and farther back to aid quick, accurate shifting.
The stroke of the gear linkage is similar to that of standard so that the synchromesh isn't rushed, but precise and accurate gear selection is achieved.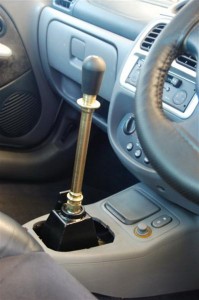 The kit includes:
new front pivot bush and circlip,
front pivot with bearings,
linkage rod with bearings,
in car tower with spherical bearing,
gear stick with reverse lockout sleeve,
gear knob
all associated bolts required for fitting.
Please note that due to the construction of this linkage and the lack of any rubber damping in the system there will be a slight noise transmitted through to the cabin.
£295.00 inc vat for the parts £70.00 inc vat for labour
Total cost £365.00 inc vat
 Clio 172 / 182 Front suspension top mounts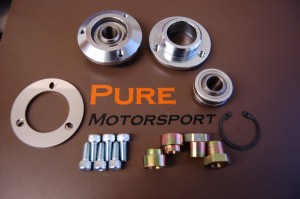 These front top mounts replace the standard rubber mounts. They improve the handling, precision and feel of your car by eliminating the flexible rubber with the use of an 18mm Motorsport spec spherical bearing.
The top mounts are CNC machined from steel and zinc plated for corrosion resistance.
They are supplied with mounting bolts, spacers, sleeve nuts and now with a pair of mirror polished stainless steel cover/load spreading plates. They bolt through the body by simply drilling 3x8mm holes.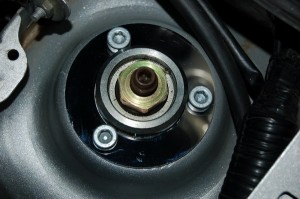 We have manufactured the mounts from steel to keep them small, light and strong and also allows us to place the bearing high up in the mount so that it doesn't raise the front of your car unlike many other alloy mounts on the market.
They fit all 172/182/Cups etc.
These are also a direct fit with the Renaultsport Bilstein Race Damper set up and with the bolt in design they are far easier to live with, please ask about our Bilstein kits.
Please see our strut brace that bolts into these mounts giving extraordinary strut stability and is one of the only Clio strut brace designs that actually works!
We also offer a bearing with greater preload for very hard motorsport use. Please ask when purchasing for these – please note that use of these preloaded bearings will make the steering slightly heavier.
£140.00 inc vat for the parts £95.00 inc vat for the labour (includes tracking)
Total cost £235.00 inc vat
Clio 172 / 182 Front Strut Brace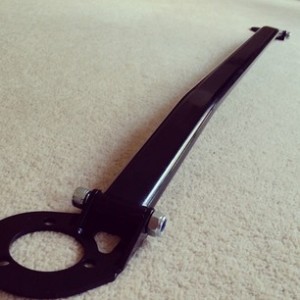 This strut brace bolts into our top mounts to give excellent strut stability.
The strut brace mounts are laser cut, TIG welded and powder coated. These bolt into the top mount using the sa
me mounting holes in the body – this ensures the load path is directly from the suspension strut into the brace. The brace bar itself is made from steel, TIG welded and powder coated, it is non-adjustable. This kit is for the PH2 172/182.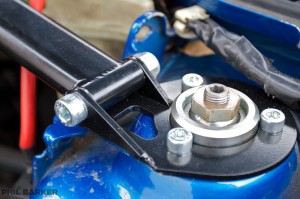 The strut brace cannot be fitted to standard top mounts – you must already own our mounts or ask about the package deal for better prices.
£125.00 inc vat for the parts £25.00 inc vat for the labour (labour free if purchased with our top mounts)
Total cost £150.00 inc vat